Let's look at Luke 14 for our Context today:
Then said he unto him, A certain man made a great supper, and bade many: And sent his servant at supper time to say to them that were bidden, Come; for all things are now ready. And they all with one consent began to make excuse. The first said unto him, I have bought a piece of ground, and I must needs go and see it: I pray thee have me excused. And another said, I have bought five yoke of oxen, and I go to prove them: I pray thee have me excused. And another said, I have married a wife, and therefore I cannot come. So that servant came, and shewed his lord these things. Then the master of the house being angry said to his servant, Go out quickly into the streets and lanes of the city, and bring in hither the poor, and the maimed, and the halt, and the blind. And the servant said, Lord, it is done as thou hast commanded, and yet there is room. And the lord said unto the servant, Go out into the highways and hedges, and compel them to come in, that my house may be filled. For I say unto you, That none of those men which were bidden shall taste of my supper.
Sometimes, the scripture that we read, the words that Jesus says, are very hard pieces of scripture to swallow.  This is one of those passages for me.  I first heard this passage when we got one of our new pastors after the pastor who stayed in my church for a long time.  And he preached a message on it that I will never forget.  I remember sitting there, and this pastor was using the month of August, his first month, to focus on evangelism.  And this was one of those passages.  I've been visiting a lot of churches lately, which coincides with God's call for me to go away from my home church to find a new place to serve and be fed.  That's for another time though.
This passage really has been something that my mind has drifted towards time and time again.  It's just been emerging in my life over and over again, and so I felt the need to focus on this passage.  When I'm focusing on this passage, I find many parallels in this story.
Jesus is the "certain man"  who is hosting a banquet for many guests.
 He's the one that has laid it all out.  He has made all of the preparations, prepared the food, found the chairs, clothed the table.  He's lived the life like we're supposed to, and he died according to this great plan.  I think we forget sometimes that these stories are not just stories, but they directly relate to the life that we live.
Jesus' followers make more excuses than actions.  I'm sure you've said it before.  You've made an excuse, as your reason to not spend time with him.  If you're anything like me, I make excuses of exhaustion to keep me from doing something.  I make excuses of being tired as justification to be unkind to people.  I make excuses of being too busy to keep me from serving the church.  I've heard it and you've probably said it.  Jesus hears all of our excuses.  But, let's examine ourselves for a second.  We're supposed to be the people that follow Jesus.  We're supposed to be the worshippers of God.  We're supposed to be the ones who are learning him and getting to know what it means to be a follower.  We use excuses of other priorities and other commitments to things and people to keep us from being there with God.  We use the excuses of family to keep us from doing the things of God.  If I'm honest, I've used my job, my busy schedule and my friends to keep me from doing the things that I am supposed to do with God.
On a corporate level, the church has many excuses too.  We use the excuse of people not being the "right" kind of people for us to love and help.  We say that just because that person is gay or trans, we can't love them.  Instead, we spew words of hate and hurt.  We rebuke those who need social services, yet the church does not provide meals and homes for those who go without.  The church, us as members, do not invite the homeless in so that we can share our lives with them, like Jesus said to do.  We do not love those who are in prison, because after all, they got themselves there, even though the bible tells us to be there for them.  We excuse ourselves from caring for our neighbor, simply because that neighbor does not meet our standards.  I love the following meme: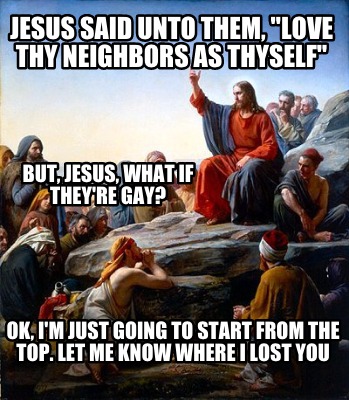 We like to put qualifiers on grace.  But Jesus didn't do that.  He didn't say we got a choice in who we loved or how we loved them, he said to love them.  Period.  That's it.  That's the way that Jesus lived.  But we are pious and think that we can say who can get our grace and our love, our food and our presence.  What idiots we are!
God gave us no qualifiers.  He met us where we were.  That's it.  Let us do the same.
Jesus' response to our excuses.
So, let's look at the story.  There were all of these excuses, and yet the food was still prepared.  No one who was invited was coming, yet the food needed to be eaten still.
Let's think of the invited as church members, people who are supposed to be the ones who are eager to be in the banquet.  Those who are supposed to desire the one that made them.
Unfortunately, we often miss the mark, because the banquet table is full and the plates are empty, seats are vacant, and the host is lonely.
So, Jesus told his servants to go out to the city, go get the disabled, and bring them in.  These are the people who are often close by the church, but do not enter.  THese are the people who know about Jesus, but don't have much experience in the church.  The people who stay home on SUnday mornings, but they watch church on TV.
Did you see what Jesus did there?  He rejected those who were in the church making excuses and went after those who don't have that church.  He sends for them.  He gets them.  And they come.
But there was still room.
So he sends out the servants to get those people who are on the highways and hedges, and tells them to get over here, and enjoy the feast.  These are the people who are the "lowest of the low" those who are out there and we typically ignore.  He tells them to come on in, pull up a chair and eat plenty.  They're foreigners to the gospel, and he tells them to come in.  He tells them to go for it and to come on by.  And everyone ate and enjoyed themselves.
Those are not the people of our modern churches.  These are the homeless, the smelly, the prostitute, the rejected….all of the people that we pretend don't exist, they do at the table.  All are welcome to the table, but that doesn't mean everyone is there.
Who do you want to be?
I don't want to be the invited, who give an excuse for missing out on God.
I don't want to be the adjacent ones, because they're the ones that don't have a relationship in the first place.  They know about Jesus, but don't have a relationship.
I don't want to be the highways and hedges, because they're the ones that have no clue who God is.
I want to be the servant.  In the story, it's the servants that go out and call everyone to the table to invite them.  It's the servants who are reporting back to the master.  That's who I want to be, inviting everyone to the table, because there is more than enough.
Are you a servant?  Are you the invited who miss out?  Are you the adjacent ones who don't have a relationship?  Are you the highway or hedge?